MRL Lift Hydraulic- Gearless
MRL Lift Hydraulic- Gearless
---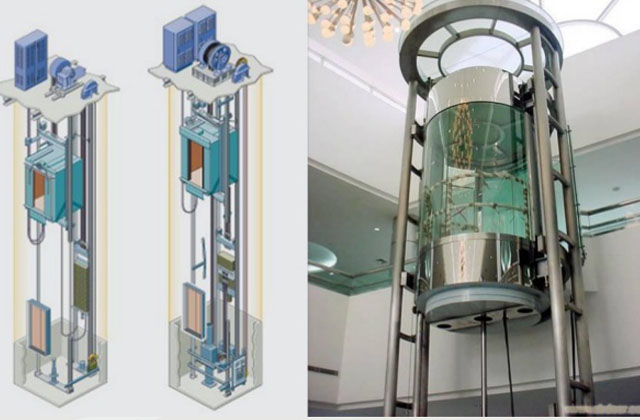 Hydraulic lift
Hydraulic Elevators play an important role in the vertical transportation of the people. These are ideally suitable for shafts with narrow dimensions, constrained space and where an overhead machine room is not available. The hydraulic power pack can be located at a place at convenient within about 2 to 3 meters from the shaft. The hydraulic elevators are normally convenient for travel distances up to 25 meters. The range of elevators from GRJ Elevator is a range of standard hydraulic elevators built to be in compliance with the international standards.

Drive Unit:
The hydraulic power system comprises of a pump power by an electrical motor, reservoir tank for the hydraulic fluid and an electronically controlled valve systems to permit the pressurized fluid to flow into the cylinder and piston. Depending on the distance to be traveled, hydraulic cylinder can be either a single cylinder or telescopic one comprising of multi cylinders. The passenger car unit is driven by the cylinder through a direct or indirect attachment with roping system of 1:1 ratio.

Controllers:
The GrjHyd range of elevators is provided with a proprietary electronic control device that monitors all the parameters and controls the regulation of the valve to have a smooth starting, stopping, acceleration and deceleration. The main supervisory controller for the elevator systems is a micro controller based unit incorporating a vide rage of features for the elevator operations. The programmers can be customized to meet the individual project requirements.

Safety Features:

The GrjHyd range of elevators is provided with the following safety features as standard

Instantaneous safety gear for over speed
Automatic Rescue Device (ARD) - Automatic landing system in case of power failure
Emergency lighting
Alarm push button and intercom facility - optional telephone system can be provided to call emergency numbers
Overload protection
Infrared light curtain
Overload, phase failure and phase reversal protection for the motor

Cabin:

The standard elevators are finished in hairline stainless steel for the cabin items.
Optionally a variety of special cabin interior finishes in painted steel, stainless steel mirror etched, custom etched and photo printed finishes are available.
Send Enquiry
---